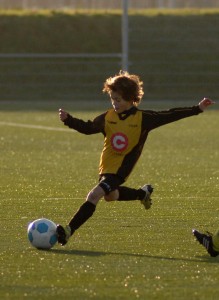 The Soccer Academy is a Dutch organisation focusing on improving stamina, agility and technical soccer skills of kids and youngsters. Besides that we help out trainers and coaches in how to provide their teams with the correct skills. We use the self developed Ton Jenner method, which aims at the fullest possible ball control, supplemented with the necessary technology.
At Soccer Academy you will learn how to deal with the ball and how you can be in charge of and the friend of that ball simultaneously. You should practice ten minutes every day what you have learned (say, a kind of homework) in a very short time you will be able to learn a large number of new moves.
We will teach you feints used by the world's best players to trick your opponents. First by yourself and after that with one, two or more opponents. In fact there are 150 different feints to pass an opponent! Wouldn't you like to add as many of them to your own repertoire? Whether you are striker, midfielder or defender, that does not matter. In modern football you have to -all-trades. Even goal-keepers like Jasper Cillesen or Manuel Neuer feint their surprised opponents now and then!
The motive that all children should enjoy soccer is evident in the social commitment of the organization. The Soccer Academy is committed to help out children with a social disadvantage or growing up in poverty. Ton Jenner is specialized in the training of children with behavioral disorders. To prevent for example, children with ADHD child missing out on soccer, he stood at the bar of various projects. In collaboration with Foppe de Haan. In addition to training for children with conduct disorder, the Soccer Academy is participating in the Sport Impuls project. The aim of this nationwide project is that more children do sports. Not only because exercise is good for everyone, but also from the idea that the quality of life increases in certain neighborhoods as more children actively participate in a sport.
If you like to get in touch with us, please send us an email and we will gladly tell you more: info@voetbalacademie.nl